The Camera app that's built into your  iPad or iPhone works well in ordinary circumstances, but it may disappoint you in a concert featuring your favorite artist on a dimly lit stage with bright spotlights. The  dynamic range between the darkest and brightest areas onstage, coupled with vigorous motion, will likely overwhelm your iPad or iPhone camera sensor. Your beloved performer will appear washed out, blurred or out of focus in most, if not all of your photographs – definitely not the way you want to record, relive or share the special event.
So here are a few things you can do to improve live concert photography using your iOS device. As you may have guessed, you'll need the help of a more richly featured third-party camera app. I've detailed a few of my tried-and-true favorites at the end of this post, along with an iMovie video to give you a sense of the kind of quality you can get with a third-party camera app on an iPad or iPhone.
Use manual exposure controls
Imagine how cool it would be if you could manipulate the exposure of every photo you take in real time at a concert to compensate for lights that shine too bright or darkness that conceals too much. Exposure simply refers to how light or dark your images appear.
With a regular digital camera, you could fiddle with three different settings in order to get the right exposure – Shutter Speed, Aperture (fstops) and ISO (light sensitivity). But on an iPhone or iPad armed only with the native Camera app, manual exposure control is not an option. The native iOS Camera app only enables you to select your focal point of interest, or the specific area that you'd like to appear sharpest in your photograph. Then, on the basis of that area's light measurement, it automatically adjusts your iCamera's exposure settings for the entire image. On the other hand, many third-party  camera apps let you set your focus and exposure points in different places on the touchscreen.
So how would this help you at a live concert? Using any of the third-party camera apps mentioned below, you could first set a Focus control squarely on your darling performer. Then, you could drag an Exposure control over the brightest part of the concert scene – say, a light source above the stage, the gleam on one of the instruments or the performer himself. This often darkens the entire image just enough to make the performer's facial expressions and gestures emerge from under the glare of lights. Alternatively, you could drag your Exposure control over the darkest area on your touchscreen to brighten the image enough to show the band members performing in the background or outside the spotlights.
Now while manual exposure control doesn't always coax a lot more detail out of intense light or shadow, it still produces much improved pictures. You'll definitely increase your odds of getting more than the usual underexposed specters or overexposed ghosts that you usually have to settle for using the native iPad or iPhone Camera app.
Use burst mode
To capture an energetic moment onstage, use a third-party camera app's Burst or rapid-fire mode. When enabled, you can shoot multiple shots with one prolonged press of the camera icon. If you hold  steady while you shoot the action, you're bound to come up with a few good keepers. Some camera apps allow you to program Burst mode speed and image resolution. And, they conveniently allow you to save the large volume of rapid-fire images in a temporary library until you're ready to review, edit, share or save the best of them on your iPhone or iPad.
Steady yourself
When shooting action-packed concert scenes, motion blur is virtually unavoidable. Performer-induced blur is forgivable and sometimes even photographically interesting, but blur caused by the photographer, not so much. That's where the anti-shake setting of a sophisticated camera app comes in handy. It minimizes blur caused your own motion – whether from a hiccup or trembling excitement – by preventing your iPad or iPhone camera from shooting until it senses that the iDevice is motionless. Thus, you can capture the sharpest possible photographs even as you're jostled about by fellow concert-goers or forcefully punching (rather than gingerly clicking) on your iDevice from heightened emotion. However, an app's anti-shake setting does produce a teeny lag between camera click and shutter response, potentially resulting in imprecision and missed moments. So, if you can rest or lean your iPhone or iPad on a tripod, table, railing or wall, consider using these old-fashioned stabilizers instead of a digital setting to steady yourself and your iDevice before shooting.
Zoom in, but only if you must
Most experts warn against zooming into onstage action with your iPhone or iPad. They advice that you never zoom in at all and opt instead to crop your photographs later for crisp up-close impressions. That is sound advice. However, if you're sitting in a distant section, a little bit of zoom can help immensely. Some third-party apps don't allow your zoomed-in images to degrade as significantly as you would expect. You should, however, avoid zooming to the max and in any case, expect to correct your zoomed photographs afterward for noise, vibrancy and sharpness. Also, remember that your iPad or iPhone camera takes a a few seconds to set its focus after you zoom. If there's a lot of action going on onstage, then it may take quite a while to set, if at all. So if you must zoom, do so during a relatively tranquil moment.
Don't use flash
Using your flash in a concert often leads to a lose-lose-lose situation. It distracts the performers, violates the rules of many venues and annoys those around you. For all that, you'd only succeed in enhancing the backs of heads of those immediately in front of you and do nothing towards improving the image of what's onstage.  It's really not worth the bad vibes and lousy results. Just turn off your flash option in a concert.
Get a good spot
The closer you sit to the action, the better your iPad or iPhone concert pictures will be. There's really no way around that rule. A good spot will also curb the temptation to zoom in for more up-close images, which may degrade the quality of your photographs as explained above.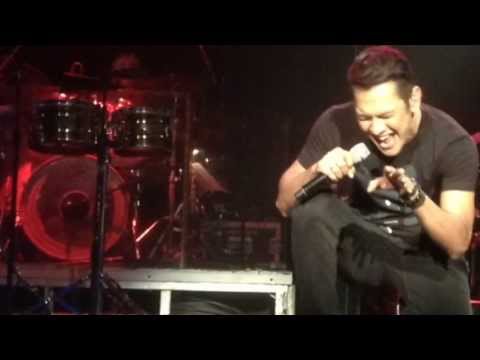 Background music by another favorite artist, Suba, from the album Suba: Tributo
Get a good camera app
The following four apps have served me well at various dimly lit concerts and indoor performances. Simply click on on an app name to review it in greater detail and/or get it on the App Store. The short iMovie video above pulls together concert photos that I took of the inimitably expressive, explosive and exceptional performer, Gary Valenciano, using the Procamera HD app on a fourth-generation iPad.
APP

Shoot modes
Normal, Rapid Fire, Sports, Timer, Video
Normal, Timer, Burst
Continuous, Burst, Timer, Stealth, Manual 1-5-10-25
Normal, Timer, Burst, Video
Manual Controls
Focus, Exposure, White Balance
Focus, Exposure, White Balance
Focus, Exposure, White Balance
Focus, Exposure, White Balance
Internal Library
Yes
Yes
Yes
(Auto Folders)
Yes
Timer
Yes
(0.5 to 20 secs.)
Yes
(5 to 30 secs.)
Yes
(3 to 30 secs.)
Yes
(5 to 60 secs.)
Image Stabilization
Yes
(Anti-shake, configurable from stable to shaky)
Yes
No
Yes
Guides
Yes
(Three grids, Horizon Level)
Yes
(One Grid, Horizon Level)
No
Yes
(Four grids, Horizon Level)
Zoom
Yes
(6X)
Yes
(6X)
No
Yes
(4X)
Image Resolution Options
Yes
(Hi-res, Low-res)
Yes
(High, Normal, Optimized)
Yes
(VGA, 1.2MP, 3MP, 5MP, 8MP)
Yes
(Hi-res, Low-res)
Geotagging
Yes
Yes
No
Yes
Video Capabilities
Stabilization, Continuous Focus Mode, Zoom, HD Preview, Video snapshots
No
Export to video
Yes
Trigger Modes
Camera Icon, Fullscreen Trigger, SnapTrigger
Camera Icon, Volume Snap
Camera Icon
Camera Icon, Big button, Volume Shutter Button
Sharing
Camera Roll, Facebook, Twitter, Flickr, Dropbox
Camera Roll, Facebook, Flickr, Twitter, Email
Camera Roll
Camera Roll, Facebook, Twitter, Instagram, YouTube, Tumblr, SmugMug, Picasa, Photobucket, Flickr, Email. Faster Sharing option. Set Up 1-Tap Share option.
Other Features and Options
JPEG conversion. Datestamp. System Sounds. Steady Light. Copyright EXIF. Calibrate Virtual Horizon. QR CodeReader. Photo editing tools (some iPad and iPhone models only).
Scenes. Effects. Borders. Photo editing tools. Low-light Boost (iPhone 5). ISO Live Exposure. Sound. Workflow. Front Flash. iCloud Lightbox Sync.
Picture Limit. Set Default Camera. Auto-on. Lock Orientation.
Awesomize presets, filters, textures and frames. Photo editing tools. Pinch to Zoom. Sounds. Archive Over Wi-Fi Only. Cloud Archive.
What other camera apps or techniques do you use to get better photographs at concerts?
Excellent ebooks on iPhone and iPad photography