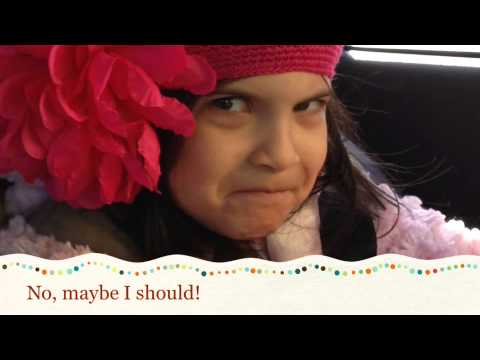 What to do when you're on the road with a four-year-old who's a tad crabby and defiant? If you're not driving, try this.
From your passenger seat, point an iPhone or iPad camera toward her and say sternly, "Don't make a face!" Chances are, your request will be disregarded. The more you mock-protest her "disobedience," the better her expressions will get. In no time, she'll be a happy little beam of sunshine again and you'll have a dozen or so shots on your iDevice. That's all you need to create a one-minute video afterward to showcase both the child and your photography.
I dropped my set of images into the iMovie app, about which I had read much hype at the time. Since I had never ever produced a video before, I expected to be overwhelmed. Instead, I was pleasantly surprised by how easy it was to figure out and use. In fact, the app's built-in "Playful" theme — complete with music, transitions and title fields — inspired me to do more than I originally intended. I created a make-believe story that further tied the photos together and made the whole experience even more memorable for us all.
So if it's easy video making you seek on your iPhone or iPad, I recommend iMovie. To get it on the App Store now, click here.
In any case, I hope enjoy this little flick.  Please "Like" and "Share" it with others if it made you smile.
Related articles
 Excellent e-books on the subject